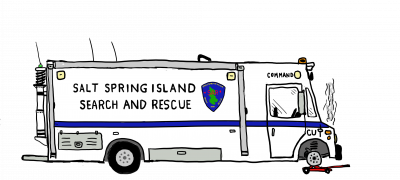 The Present
1998 Converted Grumman Bread Van
The current 24 year-old Command Vehicle (CV) has been invaluable over the past 12 years.
The CV is reaching the end of its useful service. It has been out-of-service frequently and is incapable of accessing many of the areas where searches are required.
While the CV has been able to accommodate up to 4 management staff, it is clearly an outdated design due to increased demands from a functional standpoint.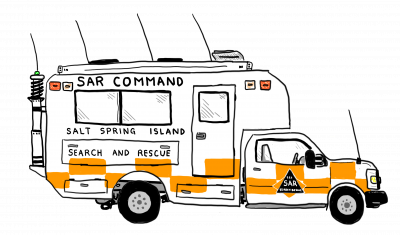 The Future
2022 Ford F550 with custom-built Incident Command Box
The new Command Vehicle (CV) will have significant technical and safety up-grades including 4-wheel drive that will greatly expand the areas under which the CV can be deployed.
Much care is being taken to ensure a cost-effective build. A reputable manufacturer has been sourced and the proposed CV is based on a proven design used by other SAR groups.
The CV will be the operations hub of all search, rescue and emergency activities on Salt Spring and other Southern Gulf Islands.
The Command Vehicle Replacement Drive has met the Phase II goal.
Fundraising for our new Command Vehicle continues.
SAR has raised $215,000 as a result of receiving donations
and pledges of $40,000 including significant contributions from
100 Women Who Care, The Royal Canadian Legion and Country Grocer.
This is welcome news as our current Command Vehicle has been
recently out of service twice, once for over four weeks.
We continue to seek donations to help us raise the final $105,000
due in late Spring 2023 upon vehicle completion and delivery.